Pod Coffee Versus Barista Coffee:
The Ultimate Guide To Coffee For Events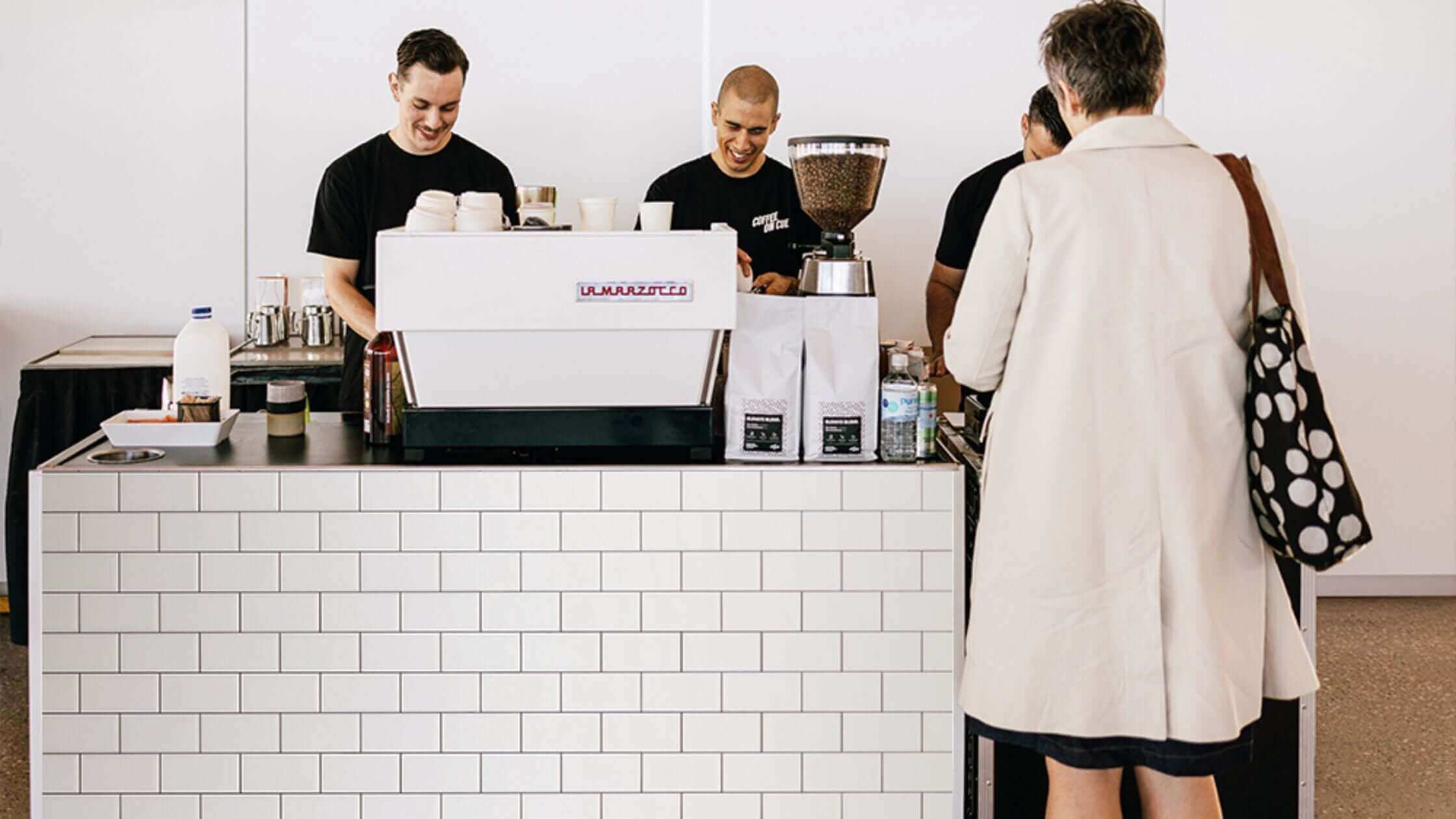 The Coffee Culture In Events
From small intimate gatherings to grand, lavish celebrations, coffee has continuously played an integral role in setting the ambiance and mood for any occasion.
As society has evolved into the modern age, the influence and prevalence of the pod coffee machine, with its quick delivery and easy touch, have certainly made a discernible impact.
However, when it comes to the grandeur of events, absolutely nothing can replace the sheer elegance, captivating allure, and undebatable quality of a meticulously barista-crafted brew at a coffee cart.
Coffee Pod Or Lasting Impressions?
In today's fast-paced world, coffee pods, especially renowned ones from significant brands like Nespresso Vertuo, have made waves, inundating the market with alluring promises of unparalleled speed and utmost convenience.
And while such capsule coffee machines might suit a rushed morning ritual or a quick caffeine hit, during events, these machines and the coffee capsules they use can sometimes give off an impersonal, detached vibe.
On the contrasting side, introducing a coffee cart with a skilled barista at its helm becomes a focal point, a hub of activity, ensuring that cherished memories are brewed right alongside each delicious cup of coffee.
Setting The Stage With A Coffee Cart
Paint a picture of a bustling event: guests congregating around an inviting coffee cart, engaging in animated conversations as a skilled barista diligently crafts each espresso, each brew, to sheer perfection.
The tantalising aroma of freshly roasted coffee beans fills the air, offering an unmatched sensory experience that captivates and delights.
This interactive, artisanal approach not only promises the delivery of the best coffee imaginable but seamlessly infuses an element of sophistication and class to any gathering, big or small.
Quality Over Convenience
The ongoing debate is both intense and real – do you opt for the quick convenience of coffee pods or delve into the layered depth of a barista-crafted cup of coffee?
While modern machines can assure a somewhat consistent taste, they often miss out on capturing the enchanting magic that only fresh grounds and the dexterous hands of an expert can bring to each lovingly made cup of coffee.
For events, especially ones where quality and impression are paramount, the genuine human touch, with its finesse and flair, remains unbeaten.
Sustainability Matters
In our evolving world, environmental consciousness isn't just a trend; it's a pressing necessity.
As event planners increasingly become more eco-aware and environmentally responsible, the mounting waste produced by countless coffee capsules becomes a glaring concern.
In stark contrast, traditional barista methods, particularly when combined with sustainably sourced beans, embody a sense of responsibility and eco-care, ensuring guests leave with an impression of mindfulness and sustainability.
The Personal Touch For Memorable Events
A masterful barista possesses the unique ability to tune into guests' varied preferences, curating a cup that not only satisfies the taste buds but also resonates on a personal level.
Such intimate interactions significantly elevate the overall coffee experience at events, transforming it into a notable talking point among attendees, adding that distinct, unforgettable touch that lingers long after the event concludes.
Equipment Elegance
While a brushed stainless steel coffee machine might exude a sense of modernity and technological marvel, the charm exuded by traditional barista equipment, ranging from intricate espresso machines to vintage grinders, is both timeless and undeniably classy.
Such equipment not only functions impeccably but adds a visual appeal to event settings that modern machines often can't replicate.
Coffee Lingo And Event Aesthetics
While contemporary coffee vocabulary seems saturated with terms like "compatible," "capsules," or "pod," traditional coffee narrates a rich, enthralling language steeped in flavour nuances, texture intricacies, and diverse origins.
By understanding and seamlessly incorporating this enriched lingo, event planners can add a depth to their event presentations, turning each cup into an engaging conversation starter.
Morning Events – The Perfect Brew to Start
Every morning event deserves a distinguished, special beginning.
And while a capsule coffee machine may promise quick delivery and speed, it often misses capturing the soul and essence of a ritualistic, flawlessly brewed cup.
A seasoned barista, armed with their vast expertise, knowledge, and passion, can effortlessly craft that ideal morning brew, setting a harmonious tone for the rest of the day's proceedings.
Costs That Count
Every event comes with budget constraints, and each decision, big or small, invariably impacts the bottom line. At first glance, the cumulative price of individual coffee pods and their accompanying machines may seem cost-effective.
However, when you factor in the experiential value, the elegance of a coffee cart helmed by a skilled barista often offers unparalleled value.
Visual Delight In Events
In today's age, where aesthetics and visual appeal reign supreme, the design and presentation of coffee service at events hold immense significance.
While the sleek, minimalist design of a coffee pod machine has its merits, the lively ambiance of a bustling coffee cart, augmented by the zeal of a dedicated barista, promises an unparalleled visual and sensory experience.
Customised Experience For Diverse Tastes
Event guests come with an array of tastes and preferences.
Machines, though advanced, are often limited by their capsules and pods. In contrast, a seasoned barista, equipped with a diverse range of beans, blends, and brewing methods, stands unmatched in delivering a vast range of coffee experiences.
The Verdict?
To conclude, for any astute event planner, the pivotal choice between the lure of convenience and the allure of quality remains.
The world of coffee pods and machines, with its ease and speed, has undeniable merits.
However, the enchantment, sophistication, and sheer unparalleled quality of a barista-crafted cup, especially in the backdrop of events, stand tall and unrivaled.
In the grand tapestry of events, experiences, and cherished memories are paramount. Choose with discernment; choose the art of the barista.
Looking To Hire A Coffee Cart For Your Next Event?